Statue Depicting WWI Soldiers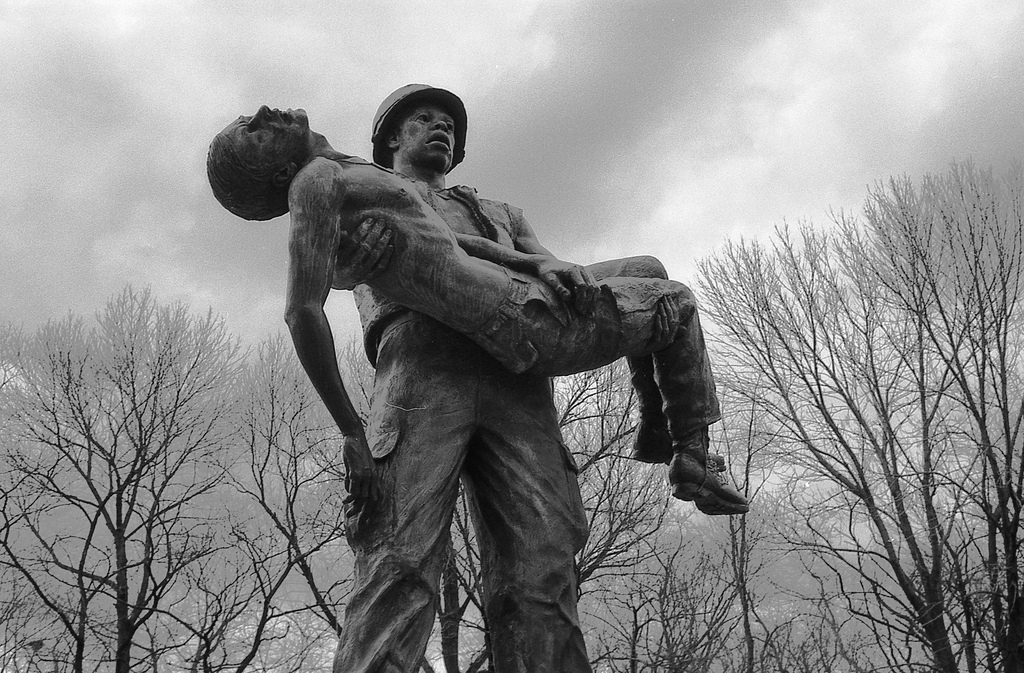 Topics on the Page
A History of Anti-War Literature
All Quiet on the Western Front
Vietnam War and The Things They Carried
Re-emergence of the Genre
Anti-War Novels by Women
History of Protest Music
Strange Fruit by

Billie Holiday
History of Anti-War Literature
Link to an article on the History of Anti-War Literature
Anti-War Literature emerged after World War I as an expression of frustration of authors who served during The Great War. These included works by Hemingway, Vonnegut, and other prominent authors.
10 War Novels That Will Turn You Into a Pacifist
Street Scene in Dresden, Germany (1945).
Setting for Kurt Vonnegut's novel Slaughterhouse 5
Slaughterhouse 5
A Summary of Kurt Vonnegut's Novel: https://www.britannica.com/topic/Slaughterhouse-Five
Biography of Vonnegut: https://www.biography.com/writer/kurt-vonnegut
CrashCourse Video on the novel: https://www.youtube.com/watch?v=F6g7S2W27Kc
Teaching Guide for the Novel: https://www.penguinrandomhouse.com/books/184345/slaughterhouse-five-by-kurt-vonnegut/9780385312080/teachers-guide/
All Quiet on the Western Front
Link to Influential Literature page for All Quiet on the Western Front
Vietnam War
Following World War II, The Vietnam War was a major point of political and social contention in the long 60's. As a part of this, after the war many memoirs and novels emerged expressing the Antiwar sentiment.
Article from the New York Times, "The Four Stages of the Anti-War Movement": https://www.nytimes.com/2017/10/24/opinion/vietnam-antiwar-movement.html
Opinion piece from the New York Times on a novel written by a refugee of the Vietnam War: https://www.nytimes.com/2017/05/02/opinion/vietnam-war-novel-was-not-written-by-an-american.html
The Things They Carried
The Things They Carried is a fictional work based in the author's experiences as a foot soldier in the Vietnam War.
Biography on Tim O'Brien: https://www.britannica.com/biography/Tim-OBrien
Overview of the novel from the National Endowment for the Arts: https://www.arts.gov/national-initiatives/nea-big-read/the-things-they-carried
Animated summary of the novel: https://www.youtube.com/watch?v=8cOvKzERBL0
Link to a full audiobook narrated by Bryan Cranston: https://www.youtube.com/watch?v=XsbcnoA-K3M
The Genre Reemerges
Post 9/11, an anti-war perspective emerged once again in modern literature.
Article on the Rise in Anti-War novels in modern day
10 Vietnam War Novels to Read, Council on Foreign Relations blog
Barbara Kingslover, Author of the Poisonwood Bible
Anti-War Novels by Women
While Anti-War novels post WWI were written mainly by men, there are many novels with Anti-War themes written by women. They chronicle international conflicts and present new perspectives to the genre.
History of Protest Music
Billie Holiday recorded the song Strange Fruit in 1939 to protest
violence and racism against African Americans
Brief Overview of Protest Songs, National Women's History Museum
The History of American Protest Music, from "Yankee Doodle" to Kendrick Lamar, Vox (May 22, 2017)
The Power of Protest Songs, American Indian Magazine, Smithsonian National Museum of the American Indian
Hear Billie Holiday sing Strange Fruit
16 Songs from the Past Century of Protest Music, People (February 10, 2017)
Protest Songs, A Musical Introduction, Smithsonian Folkways
Teaching with Protest Music, The New York Times Learning Network
Analyzing Protest Songs of the 1960s
World War I: From Propaganda to Poetry, Common Sense Education
33 Revolutions Per MInute: A History of Protest Songs, from Billie Holiday to Green Day. Dorian Lynskey (Ecco, 2011).